Except for Tamara de Lempicka, can you quote at least three women-artists of the XX century? Maybe more… How many? Ask yourself that question…
Looking back on my art history classes in undergrad, I cannot help but notice the near-absence of women-artists. And yet, they existed and did amazing art. And I must admit, I did not realize how much I did not know until I came across the incredible work of Aware Women Artists, an organization that aims at "restoring the presence of 20th century-women artists in the history of art". Today, I want to introduce you to these artists, but note this: there will be famous and less famous women-artists of the XX century. What I want you, reader, to notice, is how little we know about them.
Without further ado, let me introduce our first artist of the series !
The chicest of women-artists: Tamara de Lempicka (1898 – 1980)
"I was the first woman to paint cleanly, and that was the basis of my success. From a hundred pictures, mine will always stand out. And so the galleries began to hang my work in their best rooms, always in the middle, because my painting was attractive. It was precise. It was 'finished'." – Tamara de Lempicka
From Saint-Petersburg to Paris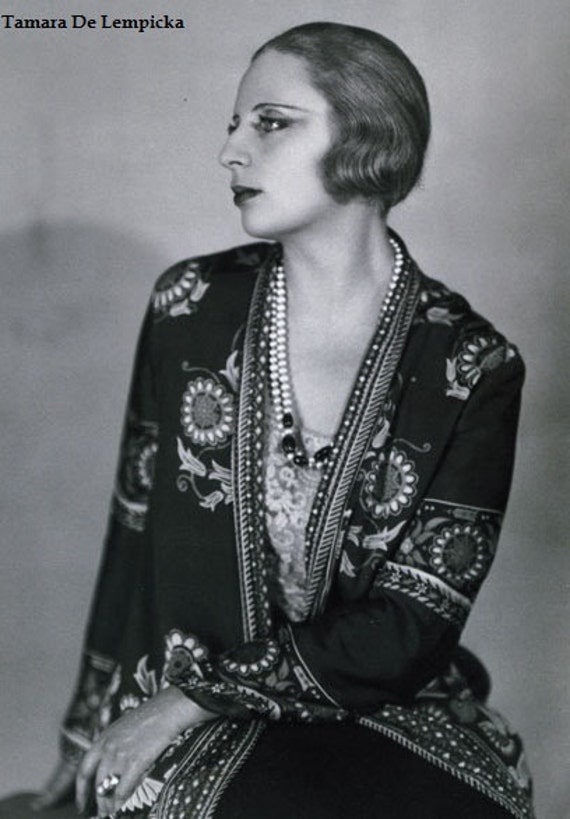 The first woman-artist we are looking at is Tamara de Lempicka. She was born in Warsaw, Poland in 1898. Tamara started painting at a very young age and was determined to make a career as an artist. She lived in Lausanne, then at her aunt's in Saint Petersburg, allowing Tamara de Lempicka to grow up in the company of Russia's high-society.
In 1916, she settled in St-Petersburg with her husband, but the outburst of the Soviet Revolution in October 1917 cut her experience short and they had to relocate to Paris. There, Tamara de Lempicka went to Maurice Denis' and Andrée Lhote's workshops. The latter was the figure of the "bourgeois cubism", a softer Cubism that fit the taste of the Parisian bourgeoisie. Yet, another important figure for Lempicka was Jean-Auguste-Dominique Ingres and the milky skins of his painted figures, which can also be found in her works.
Harper's Bazaar
In the second half of the 1920s, Tamara de Lempicka became one of the most in-demand portraitists. How, you ask? In 1925, she exhibited in two major venues of the International Exhibition of Modern Decorative and Industrial Arts: the Salon des Tuileries and Salon des Femmes Peintres (Salon of women-artists, a/n). She was spotted by the now-famous Harper's Bazaar and that is how her name became known. But rest assured, her reputation in Paris was already established as she threw some of the most lavish parties of the capital. The "Baroness with a brush" went on to paint portraits of the bourgeois she frequented, as well as figures like the Queen Elizabeth of Greece or King Alfonso III of Spain in the 1930s.
Her work was also often used for fashion publication, following her success with the journalists from Harper's Bazaar.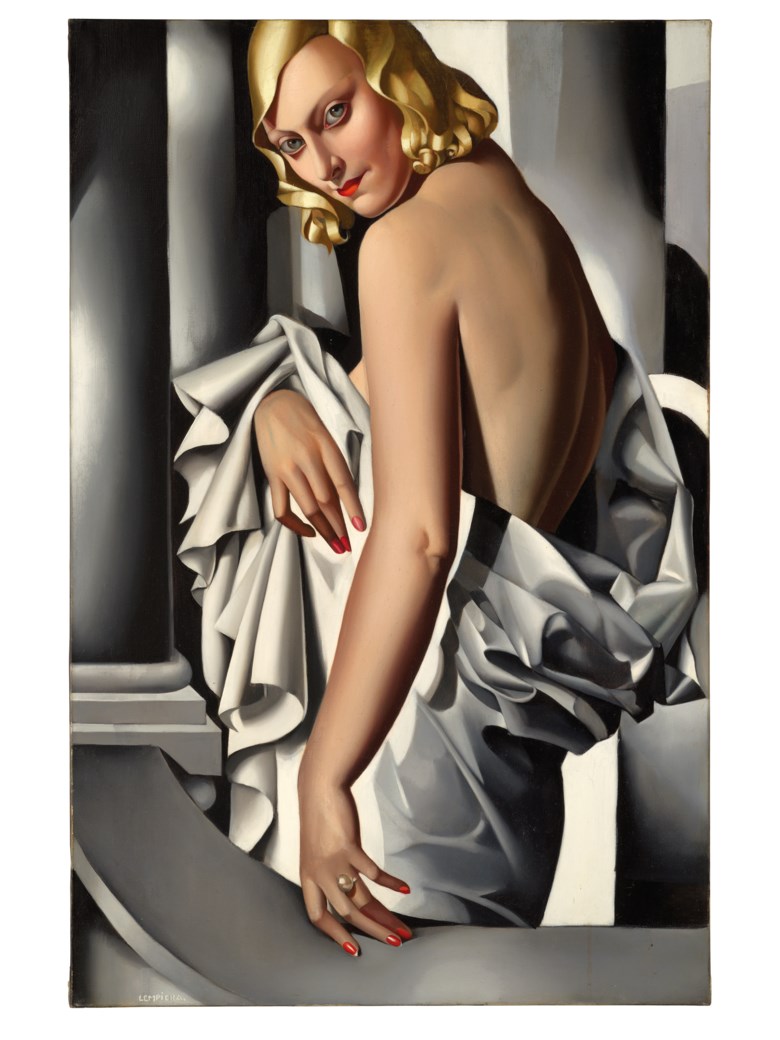 The US and Mexico
Tamara de Lempicka travelled to the US for the first time in 1929 and exhibited her work in Chicago in 1933, alongside that of Georgia O'Keeffe and Willem de Kooning. Besides and despite the Great Depression, she continued exhibition her works in Parisian galleries.
In 1939, as World War II broke and the Nazis invaded Poland, Tamara and her husband (Baron Kuffner, whom she had married in 1934) moved to Los Angeles. There, she perpetuated her love for portraits of the bourgeoisie by painting the local elite. However, despite shows organised in San Francisco or New York, she did not have the success she expected. They then moved to New York in 1943, where she continued living a frenetic social life. However, the popularity of her work declined because of the rise of Abstract Expressionism.
In 1961, Baron Buffner passed away and in 1974 the painter moved to Cuernavaca, Mexico, where she saw her health decline. Tamara de Lempicka died in her sleep in 1980.
Tamara de Lempicka's style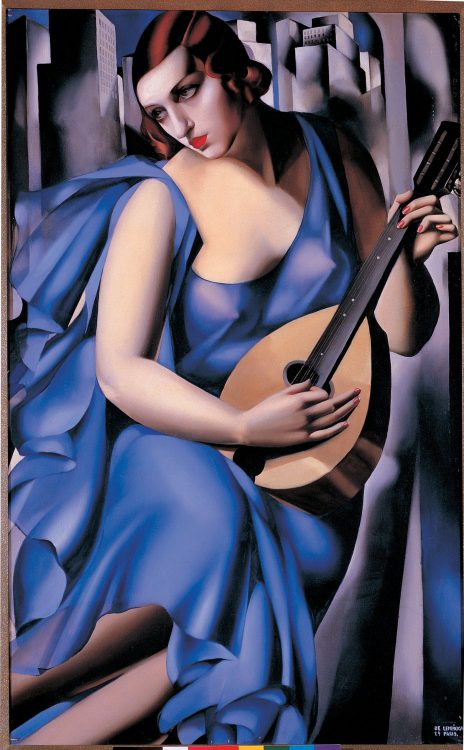 As she so said herself, Tamara de Lempicka's work was "finished". If her work is unequivocally unique, her influences are clear. The soft angles present in each of her paintings stems from her cubist background, her years alongside the aforementioned Andrée Lhote; her works have a polished look that recalls that of Jean-Auguste-Dominique Ingres.
She is often broadly associated with the Art Déco movement because she is one of the most representative figures of the roaring twenties' in Paris. But the truth is, her work goes beyond any art movement. Her work is a clever combination of all her influences, with a touch of feminism. Yes, feminism, you read correctly!
The Pink Gown
Let's have a closer look at La Tunique Rose, pictured above. Sotheby's sold this work in November '19 for $13.3 million a record for a work by Tamara de Lempicka (which was broken with the Portrait of Marjorie Ferry – see above – sold for $21.1 million at Christie's). The woman portrayed was one of her muses and lovers, Rafaëla.
"Suddenly I became aware of a woman walking some distance in front of me. As she walks, everyone coming in the opposite direction stops and looks at her. They turn their heads as she passes by. I am curious. What is so extraordinary that they are doing this? I walk very quickly until I pass her, then I turn around and come back down the path in the opposite direction then I see why everyone stops. She is the most beautiful woman I have ever seen—huge black eyes, beautiful sensuous mouth, beautiful body. I stop her and say to her 'Mademoiselle, I'm a painter and I would like you to pose for me. Would you do this?' She says 'Yes. Why not?"
Doesn't this work remind you of another work? And another one? And another one? You are absolutely right. With this reclining figure, Tamara placed herself in the line of some of the greatest male-painters of art history. Titian, Giorgione, Velasquez, Canova but also Degas, Ingres – of course -, Manet… She placed her work in the line of works with a subject-matter mostly treated by men. Tamara de Lempicka's Tunique Rose was also an open confession to her relationship with Rafaëla at a time when she was married, and being bi-sexual was not accepted by society. Not only did she make this historical subject her own, but she made it an ode to the Modern Woman.
An ode to the Modern Woman
Tamara de Lempicka was the epitome of the modern woman and her paintings reflect her modernity. In this article, I barely mentioned the painter's tumultuous love life (simply because I do not think it is relevant to talk about an artist's career) but it reflected her open-mindedness and modernity.
Her taste for the bourgeois way of life and luxury made her of the most popular woman of her times, and the way she depicted the bourgeoisie with such taste played a part in the paving of her career.
Now tell me, how much did you know about Tamara de Lempicka, one of the 20th century's most famous women-artists?